About Jewelshine™
A Message From Our C.E.O.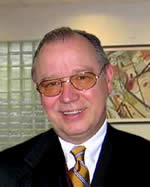 Clint Nelson
Dear Customer,
You are the heart and the focus of our business. From inception in the 1970s, consideration for the environment and safety propelled us to develop Jewelshine™ ultrasonics *. In those days most jewelry cleaning was done with harsh chemicals, such as cyanides. Ultrasonic cleaners were finally beginning to take off with the development of transistors, which made ulrasonic cleaners more efficient.
We were at the forefront to ban CFCs, and through Congress we managed to enact laws friendly to the environment. In the 1980s our focus received an additional dimension: Energy efficiency. We started producing energy-efficient, virtually maintenance-free products.
In the 1990s we added to our mission: Produce superior, unsurpassed cleaning performance, setting new worldwide standards. This allowed us to bring you the Diamond Decade!
For our customers, the new millennium is like MAGIC! Jewelshine™ Ultrasonics bring unsurpassed, superlative rainbows of color from your diamonds, platinum, gold and silver with a luster never seen before.
The credit for our success is due to our research staff for continuous effort spanning over four decades. We have partnered with Northwestern University, Illinois Institute of Technology, NASA National Aeronautics and Space Administration, University of Wisconsin, research consulting companies. Perhaps just as important, credit is due to over 90,000 customers worldwide who made the Jewelshine™ Cleaning Technology what it is today by expecting perfection from us.
Our diverse customer base reads like the Who\s Who, some in countries we did not even know existed, in industries from diamond cutting, jewelry manufacturing, retail stores, medical device and implant producers, optical and electronics, and many others. We literally clean the Crown Jewels!
Together, we redefined every aspect of our businesses, even what Customer Service means: We guarantee not only your satisfaction we guarantee your happiness!
Buy our product confidently, it will bring you more beauty, joy and hope than you can imagine, money too, for it will pay dividends out of all proportions as compared to the small price.
Truly Yours,
Clint Nelson
President and C.E.O.
*Richard Allen Winter, John Nolan, and Clint Nelson founded the CD Nelson Company.